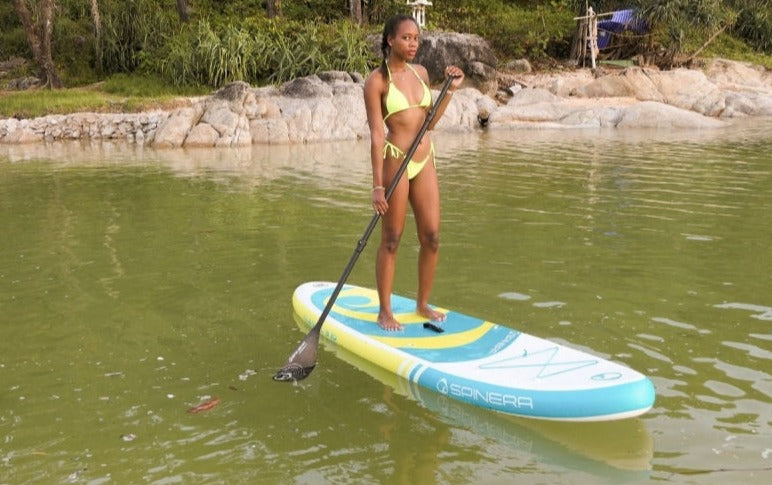 Stand Up Paddle Boards
Our Stand Up Paddle Boards are all high quality and we have both premium all round fun and travel boards suitable for paddling. 
If you need a hand with choosing the right inflatable SUP for you, don't hesitate to give us a call and we'll be happy to go through things with you!
Spinera paddle boards ( SUPS ) are the best on the market for inflatable paddle boards. Built to perform and provide a fun, sturdy and stable base for you to get out on the water. Made for everyone but built to outperform all others - our inflatable products will help your time on the water be less fuss and more fun.
WHAT ARE PADDLE BOARDS USED FOR?
Paddle boarding is a form of surfing, whereby the person stands, sits or kneels on the surfboard. More popular these days is stand up paddling (sup paddling) which is done as the name suggests, while standing on a board and paddling with a long-hand to propel oneself through the water. Stand up paddling can be practiced on still waters such as rivers, lakes and even the ocean on calm days, Our Adelaide store at Clarence Gardens has you covered when it comes to SUPS.
HISTORY OF STAND UP PADDLE BOARDING
The popularity of the modern sport of stand up  paddleboarding, commonly referred to as SUP'ing, has its origin in the Hawaiian Islands. In the early 1960s, the beach boys of Waikiki would stand on their long boards, and paddle to the distant outside reef break using outrigger paddles.
In spite of its surfing origin the sport is gaining in popularity even in more protected coastal waters and lakes. The sport benefits athletes with a strong "core" workout.
SUP'ing is popular at warm coastal climates and resorts, and is gaining in popularity as celebrities are sampling the sport, and cross-over athletes are training with SUP. SUPs have been spotted around the globe, anywhere there is easy access to safe waters, as well as in the surfing lineups of the world.
Another reason for the rise in popularity of stand up paddleboarding is that, unlike surfing, paddleboarding is very easy to learn. Within one hour you can become very comfortable in the water and on your board.
Stand up paddleboarding is also more popular with women because of their lower centre of gravity, women are often more skilled at paddleboarding than men.

ONLY AVAILABLE AT RAPID SURF & SKI CLARENCE GARDENS STORE.