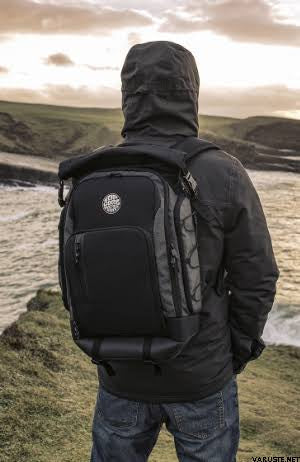 BACKPACKS
Rapid Surf & Ski stocks a massive range of backpacks for school, uni, work, travel, and adventure. Rock one of our backpacks from top surf and skate brands; Rip Curl, O'Neill, Quiksilver, Jet Pilot, Roxy and Billabong.
Backpacks as their name suggests are bags designed to be carried on your back, therefore leaving your arms and hands free. Backpacks come in various sizes, styles and materials to suit different needs and preferences. Features of backpacks can include multiple compartments and pockets to help organise belongings, padded shoulder straps and back panels for comfort, adjustable straps for proper fit and additional features like water bottle holders, laptop compartments and hidden security pockets.
When choosing a backpack, it's important to consider its intended use and the specific requirements you have. For example a student or business user may need a backpack with a laptop sleeve and enough space for books and supplies might be more suitable.
It's also important to consider the durability and quality of the backpack, as well as the weight it can comfortably carry. Some backpacks are designed to be lightweight and compact for travel, while others are more rugged and spacious for outdoor activities.
Our surf brand backpacks are known for their style and quality for a range of activities. From our main brands Rip Curl backpacks are designed to withstand the elements and provide functionality for carrying surf gear. Rip Curl backpacks often feature waterproof materials, padded compartments, and ergonomic designs. Quiksilver is another popular surf brand that offers a variety of backpacks that often feature water-resistant materials, ergonomic designs, and compartments for wet gear. Quiksilver backpacks are known for their durability and functionality. Billabong often incorporate surf-inspired designs and practical features like board-carrying systems and waterproof compartments. Billabong backpacks are known for their style and quality.
Whether you're heading to work, sport, or just out on an adventure we have a backpack to suit you.
When using a backpack, it's advisable to distribute the weight evenly and adjust the straps to ensure proper weight distribution and minimize strain on your back and shoulders. Regularly cleaning and maintaining your backpack can help prolong its lifespan.
Check out our range online or in-store. Speak to our friendly, knowledgeable staff to help choose the right backpack for you. We ship backpacks around Australia both city and regional, coastal and country.